About Us
Pagoda is a Chinese takeaway in Aberdare. Why don't you try our Mushrooms or Large Sausage?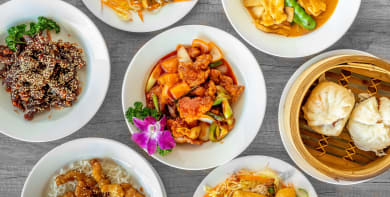 Reviews
319 reviews
Menna
"Once again first class service."
12/06/2021
Karen
"Delivered on time food was hot and very nice definitely order again"
04/06/2021
Sam
"Excellent service and food. Delivered early, piping hot delicious food and lovely delivery people. Definitely recommend as food always delicious."
04/06/2021
Stewart
"As always great food and great service ,thankyou."
03/06/2021
Menu
Mini Vegetable Pancake Rolls
£3.50
Crispy Aromatic Duck Whole
£29.00
Starter Mixed Box BBQ Sauce
Salt & Chilli Chips, Salt & Chilli Chicken, Salt & Chilli Spare Ribs (2), Curry Samosa (2), Mini Vegetables Spring Rolls (2), Chicken Balls (2) & Curry Sauce or Sweet & Sour Sauce or BBQ Sauce or Peking Sauce
£9.90
Starter Mixed Box Curry Sauce
Salt & Chilli Chips, Salt & Chilli Chicken, Salt & Chilli Spare Ribs (2), Curry Samosa (2), Mini Vegetables Spring Rolls (2), Chicken Balls (2) & Curry Sauce or Sweet & Sour Sauce or BBQ Sauce or Peking Sauce
£9.90
Starter Mixed Box Peking Sauce
Salt & Chilli Chips, Salt & Chilli Chicken, Salt & Chilli Spare Ribs (2), Curry Samosa (2), Mini Vegetables Spring Rolls (2), Chicken Balls (2) & Curry Sauce or Sweet & Sour Sauce or BBQ Sauce or Peking Sauce
£9.90
Starter Mixed Box Sweet & Sour Sauce
Salt & Chilli Chips, Salt & Chilli Chicken, Salt & Chilli Spare Ribs (2), Curry Samosa (2), Mini Vegetables Spring Rolls (2), Chicken Balls (2) & Curry Sauce or Sweet & Sour Sauce or BBQ Sauce or Peking Sauce
£9.90
Vietnamese Prawn Crackers
£2.00
Fried Rice with Chips BBQ Sauce
£4.90
Fried Rice with Chips Curry Sauce
£4.90
Fried Rice with Chips Pekinese Sauce
£4.90
Fried Rice with Chips Sweet & Sour Sauce
£4.90
Noodles with Chips BBQ Sauce
£5.00
Noodles with Chips Curry Sauce
£5.00
Noodles with Chips Pekinese Sauce
£5.00
Noodles with Chips Sweet & Sour Sauce
£5.00
Fried Rice with Chicken Balls BBQ Sauce
£5.90
Fried Rice with Chicken Balls Curry Sauce
£5.90
Fried Rice with Chicken Balls Pekinese Sauce
£5.90
Fried Rice with Chicken Balls Sweet & Sour Sauce
£5.90
Noodles with Chicken Balls BBQ Sauce
£6.00
Noodles with Chicken Balls Curry Sauce
£6.00
Noodles with Chicken Balls Pekinese Sauce
£6.00
Noodles with Chicken Balls Sweet & Sour Sauce
£6.00
Chips with Chicken Balls BBQ Sauce
£5.70
Chips with Chicken Balls Curry Sauce
£5.70
Chips with Chicken Balls Pekinese Sauce
£5.70
Chips with Chicken Balls Sweet & Sour Sauce
£5.70
Fried Rice & Chips with Chicken Balls BBQ Sauce
£6.20
Fried Rice & Chips with Chicken Balls Curry Sauce
£6.20
Fried Rice & Chips with Chicken Balls Honey Roast
£6.20
Fried Rice & Chips with Chicken Balls Pekinese Sauce
£6.20
Fried Rice & Chips with Chicken Balls Sweet & Sour Sauce
£6.20
Fried Rice with Curry Beef
£6.20
Fried Rice with Curry Chicken
£6.20
Fried Rice with Curry Pork
£6.20
Fried Rice & Chicken or Beef with Mushrooms Beef
£6.50
Fried Rice & Chicken or Beef with Mushrooms Chicken
£6.50
Crispy Beef with Fried Rice
£6.60
Singapore Fried Rice with Peking Spare Ribs
£6.80
Chicken Chow Mein
Chicken Chow Mein with Sweet & Sour Chicken Cantonese Style
£6.70
Big Box Meal BBQ Sauce
Fried Rice with Salt & Pepper Chips, Mini Rolls, Chicken Balls & Prawn Toast
£10.50
Big Box Meal Curry Sauce
Fried Rice with Salt & Pepper Chips, Mini Rolls, Chicken Balls & Prawn Toast
£10.50
Big Box Meal Honey Roast
Fried Rice with Salt & Pepper Chips, Mini Rolls, Chicken Balls & Prawn Toast
£10.50
Big Box Meal Pekinese Sauce
Fried Rice with Salt & Pepper Chips, Mini Rolls, Chicken Balls & Prawn Toast
£10.50
Big Box Meal Sweet & Sour Sauce
Fried Rice with Salt & Pepper Chips, Mini Rolls, Chicken Balls & Prawn Toast
£10.50
Chicken in Spicy Garlic Sauce
£5.50
Chicken in Black Bean Sauce
£5.50
Chicken with Ginger & Spring Onion
£5.60
Crispy Chicken Cantonese Style
£5.60
Chicken with Chinese Mushrooms
£5.50
Chicken with Mixed Vegetables
£5.50
Smoked Chicken with Garlic
£5.80
Chicken with White Mushrooms
£5.50
Chicken with Fried Onions in Garlic Sauce
£5.50
Crispy Chicken in Chilli Sauce
£5.80
Sweet & Sour Chicken Balls
£6.10
Sweet & Sour Chicken Balls - Small
£4.50
Thai Sweet Chilli & Garlic Chicken
£6.20
Sweet and Sour Chicken Hong Kong
£5.60
Beef with White Mushrooms
£5.80
Beef with Ginger & Spring Onion
£5.80
Beef in Spicy Garlic Sauce
£5.80
Beef with Mixed Vegetables
£5.80
Beef with Chinese Mushrooms
£5.80
Thai Sweet Chilli & Garlic Beef
£6.20
Sweet & Sour Pork Hong Kong Style
£6.00
Pork with Ginger & Spring Onion
£5.60
Pork with Mixed Vegetables
£5.60
King Prawns with Ginger & Spring Onion
£6.30
King Prawns in Spicy Garlic Sauce
£6.30
King Prawns in Black Beans Sauce
£6.30
King Prawns With Mixed Vegetables
£6.30
King Prawns with Chinese Mushrooms
£6.30
Butter Garlic Fried King Prawns
£6.30
Thai Sweet Chilli & Garlic King Prawns
£6.30
Salt & Pepper King Prawns
£6.30
Salt & Pepper Chicken Wings
£5.30
Roast Duck Cantonese Style
£6.30
Roast Duck with Ginger & Spring Onion
£6.30
Roast Duck with Mushrooms
£6.30
Roast Duck in Orange Sauce
£6.30
Roast Duck in Lemon Sauce
£6.30
Roast Duck with Mixed Vegetables
£6.30
Roast Duck with Pineapple
£6.30
Roast Duck with Pekinese Sauce
£6.30
Roast Duck & Pork with Beansprouts
£6.30
Roast Duck & Chicken with Beansprouts
£6.30
Roast Duck in Black Bean Sauce
£6.30
Roast Duck in Black Pepper Sauce
£6.30
Roast Duck with Beansprouts
£6.30
Fried Rice with Pineapple
£5.70
Chicken & Pineapple Fried Rice
£6.00
Beef Chow Mein With Black Bean Sauce
£6.30
Chicken Vermicelli Noodles
£6.00
King Prawn Vercemilli Noodles
£6.60
Singapore Vermicelli Noodles
£6.10
Plain Noodles
With Beansprouts & Onions
£3.90
Large Plain Noodles
With Beansprouts & Onions
£4.20
King Prawn Omelette & Chips
£6.30
Plain Egg Omelette & Chips
£5.30
Vegetables in Spicy Garlic Sauce
£3.90
Tofu with Mixed Vegetables
£5.00
Tofu in Spicy Garlic Sauce
£5.00
Beef & Chicken With White Mushrooms
£5.90
Chicken, Beef & King Prawns with Mushrooms
£6.20
Chicken & Prawns with Cashew Nuts
£5.90
Chicken & Pork with Beansprouts
£4.90
Chicken & Duck with Beansprouts
£5.90
Pork & Duck with Beansprouts
£5.90
Duck & Fried Chicken in Sweet Chilli Sauce
£6.20
Mixed Meat in Special Black Beans Sauce
£6.00
Mixed Meat in Special Satay
£5.90
Mixed Meat in Spicy Garlic Sauce
£5.90
King Prawns & Fish Cakes with Noodles
£6.00
Coca-Cola Original Taste 1.25L Bottle
£3.00
Coca-Cola Original Taste 330ml Can
£1.30
Set Meals
Choose from our set meals options,
minimum of three dishes (£15.00)
£5.00 per dish (Medium Size Containers).
Add more dishes at £5.00 per dish
(e.g. Three dishes would be £15.00)
£15.00
Contact Us
Find Us
64 Gadlys Road, Aberdare, CF448AD