About Us
Pagoda is a Chinese takeaway in Aberdare. Why don't you try our Mushrooms or Large Sausage?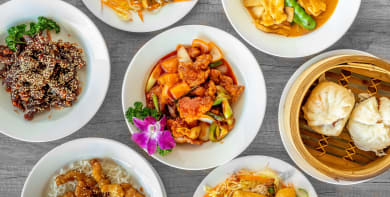 Reviews
365 reviews
Menna
"Always use Pagoda, never disappointed."
07/05/2021
Emma
"Amazing taste! All food was hot, tasty and on point! We are never disappointed with this place. Very full and happy customers"
01/05/2021
Jack
"Delivered on time and food was great."
30/04/2021
Ashley
"Great food, great service would highly recommend"
26/04/2021
Menu
Shredded Roast Pork in Foo Yung
£4.90
Mini Vegetable Pancake Rolls
£3.40
Crispy Aromatic Wraps Quarter
£8.50
Crispy Aromatic Wraps Half
£16.50
Crispy Aromatic Wraps Whole
£29.00
Starter Mix Box Curry Sauce
2 x Chicken balls, 2 x ribs, 2 x mini rolls, 2 x curry samosas, salt & chilli chicken with chips, with one choice of sauce
£9.50
Starter Mix Box BBQ Sauce
2 x Chicken balls, 2 x ribs, 2 x mini rolls, 2 x curry samosas, salt & chilli chicken with chips, with one choice of sauce
£9.50
Starter Mix Box Sweet & Sour Sauce
2 x Chicken balls, 2 x ribs, 2 x mini rolls, 2 x curry samosas, salt & chilli chicken with chips, with one choice of sauce
£9.50
Starter Mix Box Pekinese Sauce
2 x Chicken balls, 2 x ribs, 2 x mini rolls, 2 x curry samosas, salt & chilli chicken with chips, with one choice of sauce
£9.50
Jacob's Creek (White Wine)
£9.50
Tiger Beer (Chinese Lager)
£2.50
Pagoda Special Curry
Roast pork, king prawn, chicken, beef & mushrooms
£5.40
Fried Rice & Chips BBQ Sauce
£4.50
Noodles & Chips BBQ Sauce
£4.60
Fried Rice with Chicken Balls BBQ Sauce
£5.60
Noodles with Chicken Balls BBQ Sauce
£5.90
Chips with Chicken Balls BBQ Sauce
£5.40
Fried Rice with Chicken Curry
£6.00
Fried Rice with Beef Curry
£6.10
Beef & Mushroom with Fried Rice
£6.20
Chicken & Mushroom with Fried Rice
£6.30
Sweet & Sour Chicken Cantonese with Boiled Rice
£6.50
Beef in Green Pepper Black Bean Sauce Chips
£6.50
Beef in Green Pepper Black Bean Sauce Fried Rice
£6.50
Crispy Beef with Fried Rice
£6.50
Singapore Fried Rice with Peking Ribs
£6.60
Fried Rice & Chips Curry Sauce
£4.50
Fried Rice & Chips Sweet & Sour Sauce
£4.50
Noodles & Chips Curry Sauce
£4.60
Noodles & Chips Sweet & Sour Sauce
£4.60
Fried Rice with Chicken Balls Curry Sauce
£5.60
Fried Rice with Chicken Balls Sweet & Sour Sauce
£5.60
Noodles with Chicken Balls Curry Sauce
£5.90
Noodles with Chicken Balls Sweet & Sour Sauce
£5.90
Chips with Chicken Balls Curry Sauce
£5.40
Chips with Chicken Balls Sweet & Sour Sauce
£5.40
Mushroom Fried Rice with Chips Curry Sauce
£6.00
Mushroom Fried Rice with Chips BBQ Sauce
£6.00
Mushroom Fried Rice with Chips Sweet & Sour Sauce
£6.00
Chicken Chow Mein - With sweet & sour Chinese chicken
£6.60
Singapore Chow Mein with Chips
£6.40
King Prawn with Black Bean Sauce with Fried Rice
£6.80
Peking Ribs with Fried Rice
£6.50
Kung Po Chicken with Fried Rice
£6.40
Noodles with Mixed Vegetables
£6.00
King Prawn Noodles Vercemilli
£5.70
Roast Pork Noodles Vermicelli
£5.20
Beef Chow Mein with Green Peppers
& Black bean sauce
£5.50
King Prawn Omelette & Chips
£6.00
Mushroom Omelette & Chips
£5.70
Shredded Pork Omelette & Chips
£6.00
Roast Duck with Plum Sauce
£6.00
Roast Duck Cantonese Style
£6.00
Roast Duck with Ginger & Spring Onions
£6.00
Roast Duck with Mushrooms
£6.00
Roast Duck in Orange Sauce
£6.00
Roast Duck in Lemon Sauce
£6.00
Roast duck & Roast Pork on Bean Sprouts
£6.00
Roast Duck & Roast Chicken on Bean Sprouts
£6.00
Roast Duck & Seasonal Greens
£6.00
Roast Duck with Pineapple Slices
£6.00
Roast Duck with Pekinese Sauce
£6.00
Roast Duck with Green Peppers & Black Bean Sauce
£6.00
Duck in Black Pepper Sauce
£6.00
Duck Delicacy with Bean Sprouts
£6.00
Stir Fried Chicken in Spicy Garlic Sauce
£5.30
Stir Fried Chicken with Green Pepper
& Black bean sauce
£5.20
Stir Fried Chicken with Ginger & Spring Onion
£5.20
Crispy Chicken in Lemon Sauce
£5.30
Crispy Chicken in Orange Sauce
£5.30
Crispy Chicken Cantonese Style
£5.30
Stir Fried Chicken in Oyster Sauce
£5.20
Stir Fried Chicken & Chinese Mushrooms
£5.20
Stir Fried Chicken with Seasonal Greens
£5.20
Smoked Pieces of Chicken with Garlic
£5.70
Roast Chicken & Roast Pork with Bean Sprouts
£5.00
Chicken with Fried Onions in Garlic
£5.10
Crispy Shredded Chicken in Chilli Sauce
£5.70
King Prawn with Ginger & Spring Onions
£6.00
King Prawn in Spicy Garlic Sauce
£6.00
King Prawn with Green Pepper & Black Bean Sauce
£6.00
King Prawn with Mixed Vegetables
£6.00
King Prawn in Oyster Sauce
£6.00
King Prawn with Chinese Mushrooms
£6.00
Shredded Crispy Beef in Chilli Sauce
£5.70
Sliced Beef with Ginger & Spring Onions
£5.50
Sliced Beef with Green Peppers & Black Bean Sauce
£5.50
Sliced Beef in Spicy Garlic Sauce
£5.40
Sliced Beef in Oyster Sauce
£5.50
Sliced Beef with Seasonal Greens
£5.50
Sliced Beef with Chinese Mushrooms
£5.50
Assorted Vegetables in Spicy Sauce
£3.70
Stir Fried Bean Sprouts in Garlic Sauce
£3.50
Mixed Vegetables in Oyster Sauce
£3.70
Assorted Vegetables in Black Bean Sauce
£3.70
Bamboo Shoots & Water Chestnuts
In garlic sauce
£3.70
Mixed Vegetables with Cashew Nuts
£3.80
Mushrooms in Garlic Sauce
£3.70
Bamboo Shoots & Water Chestnuts
£3.50
Set Dinner
Choose from our set meals options,
minimum of three dishes (£14.40)
£4.80 per dish Medium Size Container
Add more dishes at £4.80 per dish
(e.g. Four dishes would be £19.20)
£14.40
Pagoda House Special Fried Rice
£5.70
Fried Rice with Pineapple
£5.10
Chicken & Pineapple Fried Rice
£5.40
Pagod House Special Satay
£5.30
Sweet & Sour Chicken Cantonese Style
£5.40
Sweet & Sour Pork Cantonese Style
£5.30
Sweet & Sour King Prawns Cantonese Style
£6.00
Sweet & Sour Chicken Balls Small
£4.00
Sweet & Sour Chicken Balls Large
£5.30
Pagoda House Special Garlic Sauce
£5.90
Chicken & Beef with White Mushrooms
£5.20
Assorted Mixed Meat Noodles
£5.90
Roast Chicken Chinese Style
£5.20
Chicken & Prawns with Cashew Nuts
£5.20
Sliced Chicken & Pork on Rice & Sauce
£4.90
Beef & King Prawn with Mushrooms
£5.30
Chicken & King Prawn with Mushrooms
£5.60
Beef, Chicken & King Prawn with Mushrooms
£5.40
Chicken & Black Pepper Sauce
£5.30
King Prawn in Black Pepper Sauce
£5.50
Beef in Black Pepper Sauce
£5.20
Duck & Chicken in a Spicy Sweet Garlic Sauce
£6.20
Butter Garlic King Prawns
£6.00
Contact Us
Find Us
64 Gadlys Road, Aberdare, CF448AD