About Us
Pagoda is a Chinese takeaway in Aberdare. Why don't you try our Mushrooms or Large Sausage?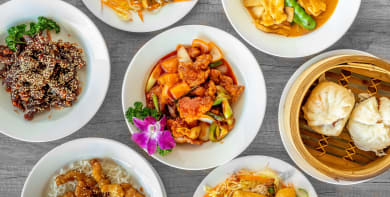 Reviews
293 reviews
Emma
"Delicious food! Arrived early and was hot and tasty! Love the curry sauce here and the portions are generous!"
01/08/2021
adrian
"Awesome food thanks pagodas"
16/07/2021
Harri
"Unbelievable service, quality and top notch, food was perfect, perfect flavour and temperature lovely stuff"
04/07/2021
Sue
"Delicious food, collected on time and very hot"
03/07/2021
Menu
Mini Vegetable Pancake Rolls
£3.50
Crispy Aromatic Duck Whole
£29.00
Starter Mixed Box BBQ Sauce
Salt & Chilli Chips, Salt & Chilli Chicken, Salt & Chilli Spare Ribs (2), Curry Samosa (2), Mini Vegetables Spring Rolls (2), Chicken Balls (2) & Curry Sauce or Sweet & Sour Sauce or BBQ Sauce or Peking Sauce
£9.90
Starter Mixed Box Curry Sauce
Salt & Chilli Chips, Salt & Chilli Chicken, Salt & Chilli Spare Ribs (2), Curry Samosa (2), Mini Vegetables Spring Rolls (2), Chicken Balls (2) & Curry Sauce or Sweet & Sour Sauce or BBQ Sauce or Peking Sauce
£9.90
Starter Mixed Box Peking Sauce
Salt & Chilli Chips, Salt & Chilli Chicken, Salt & Chilli Spare Ribs (2), Curry Samosa (2), Mini Vegetables Spring Rolls (2), Chicken Balls (2) & Curry Sauce or Sweet & Sour Sauce or BBQ Sauce or Peking Sauce
£9.90
Starter Mixed Box Sweet & Sour Sauce
Salt & Chilli Chips, Salt & Chilli Chicken, Salt & Chilli Spare Ribs (2), Curry Samosa (2), Mini Vegetables Spring Rolls (2), Chicken Balls (2) & Curry Sauce or Sweet & Sour Sauce or BBQ Sauce or Peking Sauce
£9.90
Vietnamese Prawn Crackers
£2.00
Fried Rice with Chips BBQ Sauce
£4.90
Fried Rice with Chips Curry Sauce
£4.90
Fried Rice with Chips Pekinese Sauce
£4.90
Fried Rice with Chips Sweet & Sour Sauce
£4.90
Noodles with Chips BBQ Sauce
£5.00
Noodles with Chips Curry Sauce
£5.00
Noodles with Chips Pekinese Sauce
£5.00
Noodles with Chips Sweet & Sour Sauce
£5.00
Fried Rice with Chicken Balls BBQ Sauce
£5.90
Fried Rice with Chicken Balls Curry Sauce
£5.90
Fried Rice with Chicken Balls Pekinese Sauce
£5.90
Fried Rice with Chicken Balls Sweet & Sour Sauce
£5.90
Noodles with Chicken Balls BBQ Sauce
£6.00
Noodles with Chicken Balls Curry Sauce
£6.00
Noodles with Chicken Balls Pekinese Sauce
£6.00
Noodles with Chicken Balls Sweet & Sour Sauce
£6.00
Chips with Chicken Balls BBQ Sauce
£5.70
Chips with Chicken Balls Curry Sauce
£5.70
Chips with Chicken Balls Pekinese Sauce
£5.70
Chips with Chicken Balls Sweet & Sour Sauce
£5.70
Fried Rice & Chips with Chicken Balls BBQ Sauce
£6.20
Fried Rice & Chips with Chicken Balls Curry Sauce
£6.20
Fried Rice & Chips with Chicken Balls Honey Roast
£6.20
Fried Rice & Chips with Chicken Balls Pekinese Sauce
£6.20
Fried Rice & Chips with Chicken Balls Sweet & Sour Sauce
£6.20
Fried Rice with Curry Beef
£6.20
Fried Rice with Curry Chicken
£6.20
Fried Rice with Curry Pork
£6.20
Fried Rice & Chicken or Beef with Mushrooms Beef
£6.50
Fried Rice & Chicken or Beef with Mushrooms Chicken
£6.50
Crispy Beef with Fried Rice
£6.60
Singapore Fried Rice with Peking Spare Ribs
£6.80
Chicken Chow Mein
Chicken Chow Mein with Sweet & Sour Chicken Cantonese Style
£6.70
Big Box Meal BBQ Sauce
Fried Rice with Salt & Pepper Chips, Mini Rolls, Chicken Balls & Prawn Toast
£10.50
Big Box Meal Curry Sauce
Fried Rice with Salt & Pepper Chips, Mini Rolls, Chicken Balls & Prawn Toast
£10.50
Big Box Meal Honey Roast
Fried Rice with Salt & Pepper Chips, Mini Rolls, Chicken Balls & Prawn Toast
£10.50
Big Box Meal Pekinese Sauce
Fried Rice with Salt & Pepper Chips, Mini Rolls, Chicken Balls & Prawn Toast
£10.50
Big Box Meal Sweet & Sour Sauce
Fried Rice with Salt & Pepper Chips, Mini Rolls, Chicken Balls & Prawn Toast
£10.50
Chicken in Spicy Garlic Sauce
£5.50
Chicken in Black Bean Sauce
£5.50
Chicken with Ginger & Spring Onion
£5.60
Crispy Chicken Cantonese Style
£5.60
Chicken with Chinese Mushrooms
£5.50
Chicken with Mixed Vegetables
£5.50
Smoked Chicken with Garlic
£5.80
Chicken with White Mushrooms
£5.50
Chicken with Fried Onions in Garlic Sauce
£5.50
Crispy Chicken in Chilli Sauce
£5.80
Sweet & Sour Chicken Balls
£6.10
Sweet & Sour Chicken Balls - Small
£4.50
Thai Sweet Chilli & Garlic Chicken
£6.20
Sweet and Sour Chicken Hong Kong
£5.60
Beef with White Mushrooms
£5.80
Beef with Ginger & Spring Onion
£5.80
Beef in Spicy Garlic Sauce
£5.80
Beef with Mixed Vegetables
£5.80
Beef with Chinese Mushrooms
£5.80
Thai Sweet Chilli & Garlic Beef
£6.20
Sweet & Sour Pork Hong Kong Style
£6.00
Pork with Ginger & Spring Onion
£5.60
Pork with Mixed Vegetables
£5.60
King Prawns with Ginger & Spring Onion
£6.30
King Prawns in Spicy Garlic Sauce
£6.30
King Prawns in Black Beans Sauce
£6.30
King Prawns With Mixed Vegetables
£6.30
King Prawns with Chinese Mushrooms
£6.30
Butter Garlic Fried King Prawns
£6.30
Thai Sweet Chilli & Garlic King Prawns
£6.30
Sweet and Sour King Balls
£6.20
Salt & Pepper King Prawns
£6.30
Salt & Pepper Chicken Wings
£5.30
Roast Duck Cantonese Style
£6.30
Roast Duck with Ginger & Spring Onion
£6.30
Roast Duck with Mushrooms
£6.30
Roast Duck in Orange Sauce
£6.30
Roast Duck in Lemon Sauce
£6.30
Roast Duck with Mixed Vegetables
£6.30
Roast Duck with Pineapple
£6.30
Roast Duck with Pekinese Sauce
£6.30
Roast Duck & Pork with Beansprouts
£6.30
Roast Duck & Chicken with Beansprouts
£6.30
Roast Duck in Black Bean Sauce
£6.30
Roast Duck in Black Pepper Sauce
£6.30
Roast Duck with Beansprouts
£6.30
Fried Rice with Pineapple
£5.70
Chicken & Pineapple Fried Rice
£6.00
Beef Chow Mein With Black Bean Sauce
£6.30
Chicken Vermicelli Noodles
£6.00
King Prawn Vercemilli Noodles
£6.60
Singapore Vermicelli Noodles
£6.10
Plain Noodles
With Beansprouts & Onions
£3.90
Large Plain Noodles
With Beansprouts & Onions
£4.20
King Prawn Omelette & Chips
£6.30
Plain Egg Omelette & Chips
£5.30
Vegetables in Spicy Garlic Sauce
£3.90
Tofu with Mixed Vegetables
£5.00
Tofu in Spicy Garlic Sauce
£5.00
Beef & Chicken With White Mushrooms
£5.90
Chicken, Beef & King Prawns with Mushrooms
£6.20
Chicken & Prawns with Cashew Nuts
£5.90
Chicken & Pork with Beansprouts
£4.90
Chicken & Duck with Beansprouts
£5.90
Pork & Duck with Beansprouts
£5.90
Duck & Fried Chicken in Sweet Chilli Sauce
£6.20
Mixed Meat in Special Black Beans Sauce
£6.00
Mixed Meat in Special Satay
£5.90
Mixed Meat in Spicy Garlic Sauce
£5.90
King Prawns & Fish Cakes with Noodles
£6.00
Coca-Cola Original Taste 1.25L Bottle
£3.00
Coca-Cola Original Taste 330ml Can
£1.30
Set Meals
Choose from our set meals options,
minimum of three dishes (£15.00)
£5.00 per dish (Medium Size Containers).
Add more dishes at £5.00 per dish
(e.g. Three dishes would be £15.00)
£15.00
Contact Us
Find Us
64 Gadlys Road, Aberdare, CF448AD